Travnik castle, or Travnik Old town castle, is a medieval town-fortress complex in the town of Travnik, in Bosnia and Herzegovina.
This castle is one of the most beautiful and best-preserved fortified buildings of medieval Bosnia, in which subsequent historical periods have left their special features. It was declared a national monument of Bosnia and Herzegovina.
The old town is located at the eastern end of today's town of Travnik, on the cut-off and partly rocky slope of Vlašić. Its surface is approximately 11,000 m2 and has the shape of an irregular pentagon.
History
There is no historical data as to the construction date of the Medieval fortress. However, the construction type and other characteristics indicate that it was built sometime in the second half of the 14th century or in the first half of the 15th century.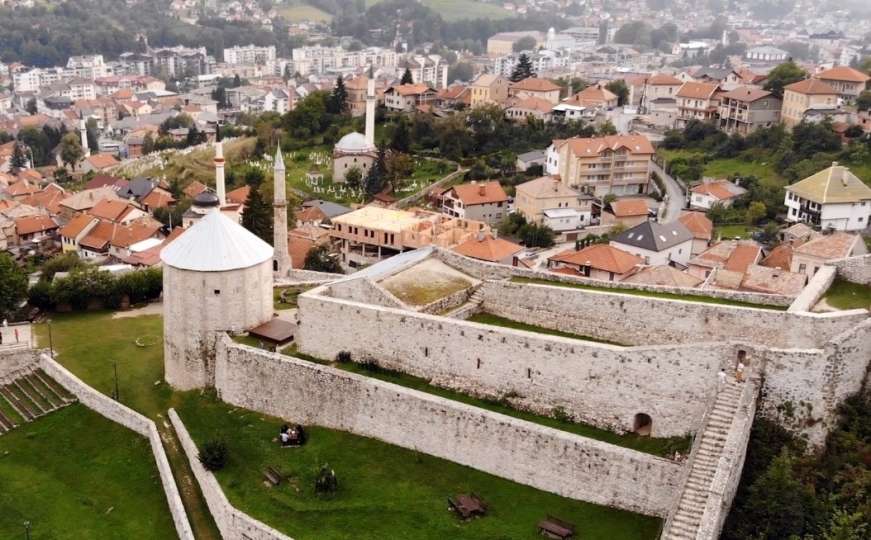 Based on the construction method and other indications, it is assumed that it was built by King Tvrtko II Kotromanić, but historians believe that King Stjepan Dabiša could also be a possible builder.
The present-day appearance of the ramparts and the fortress itself is the result of the interventions of the Ottoman masters of building military fortifications.
It was not until 1464 that the town of Travnik was mentioned for the first time. In that year, the Ottoman chronicler Dursun-beg records that the Ottoman troops led by Sultan Mehmed II Fatih stayed in Travnik during their campaign on Jajce. Only after 1480, a permanent garrison was placed in the city (which was there until 1878) and a mosque named after Bayezid II was built.
From 1463, until 1878, Travnik was under Ottoman rule. The conquering Ottomans saw the significance this strategic location represented for the military, later developing and expanding the castle, transforming it into a fortress with watchtowers. Today's walls represent that result.
An important date for the Old Town is 1699 when vizier Defterdar Halil Pasha Ćoso transferred the vizier's chair to Travnik. This means that Travnik became the Vizier's capital city of the Bosnia Eyalet.
In the 18th and 19th centuries, the fortress was remembered as a casemate and dumping ground for unruly Bosnian beys and agas, as well as all kinds of criminals.
In 1878, Bosnia and Herzegovina came under Austro-Hungarian control. As a military facility, the fortress served the Austro-Hungarian and then other armies that passed through this area until the end of World War II.
In 1953, the fortress was placed under the patronage of the Travnik Native Museum. The old town today contains various museological, cultural, educational, and entertainment settings and activities.