A bezistan is a type of covered marketplace or bazaar that was historically found in the cities of the Ottoman Empire. There are currently two bezistans in Sarajevo. One is still a marketplace and the other is a museum.
The Ottomans occupied Bosnia and Herzegovina in the 15th century and Bosnia and Herzegovina was part of the Ottoman Empire for 500 years. During that time, many buildings were built in the Ottoman style, among others, bezistans.
The two bezistans that still stand in Sarajevo are Gazi Husrev Bey's Bezistan and Brusa Bezistan.
Gazi Husrev Bey's Bezistan
Gazi Husrev Bey's Bezistan is part of the endowment of Gazi Husrev Bey. He was one of the most important governors of Ottoman Bosnia. Gazi Husrev Bey built many buildings and gave all of those buildings to be maintained as a part of the Islamic institution called waqf.
A waqf is an Arabic word meaning assets that are donated, bequeathed, or purchased for being held in perpetual trust for general or specific charitable causes that are socially beneficial. A part of Bey's waqf is this bezistan – covered marketplace.

Gazi Husrev Bey's Bezistan is also called Old Bezistan and Great Bezistan. It is presumed that the structure was built around 1540.
Bezistan is a striking stone building. Going down a few steps, you will find yourself in the abyss and feel a touch of the Ottoman era. Masters from Dubrovnik took part in the construction. Bezistan is rectangular and there are four entrances.
Due to the slightly lower temperature that was achieved by building below the level of the surrounding streets, the original purpose of the bezistan was a grocery store. This still makes shopping on warm, summer days pleasant. With its appearance, Gazi Husrev-bey's bezistan resembles the Kapali bazaar and bezistans in Istanbul. Of course, this bezistan is incomparably smaller than the Kapali bazaar.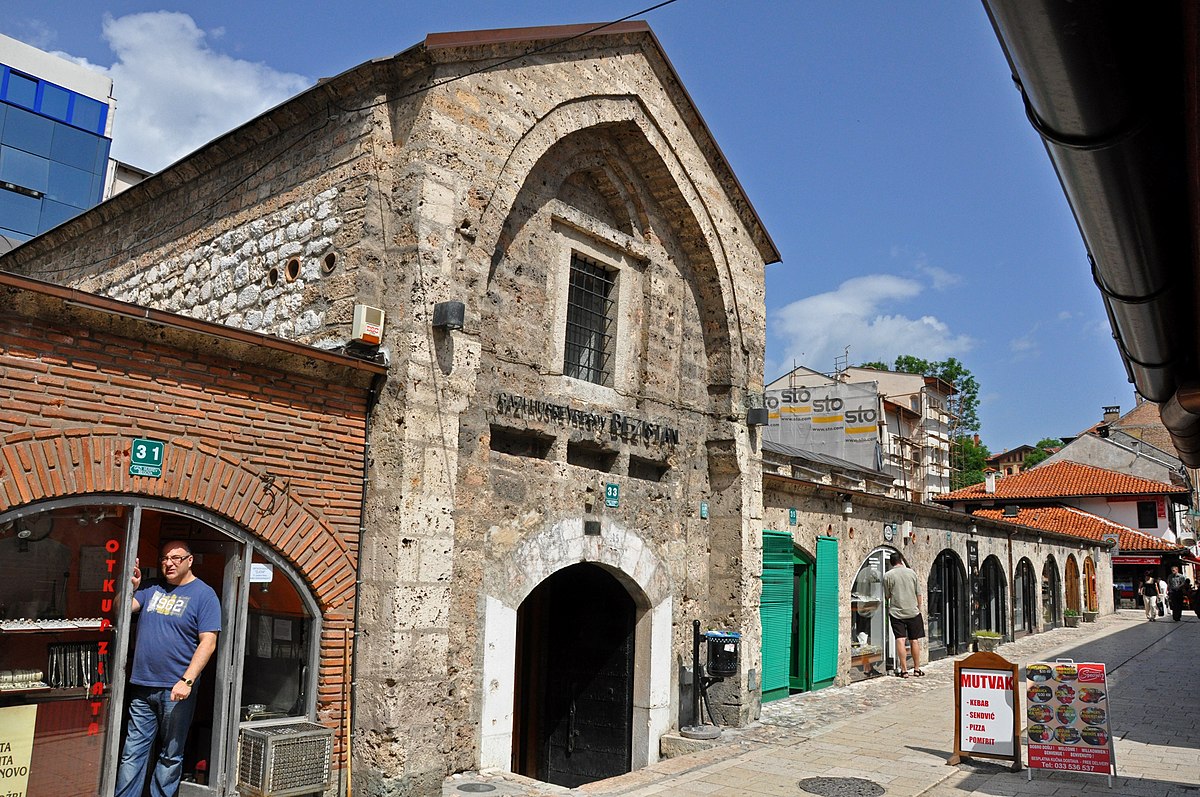 Gazi Husrev Bey's Street or Street of jewelers runs parallel to Bezistan. A total of 70 shops are located along the central area on both sides. The meager daylight in the central space comes from windows placed in a row of lunettes under the vault itself, and the interior must be constantly illuminated by electric lighting designed so that the space of the vault is filled evenly, like stars, by small lighting fixtures.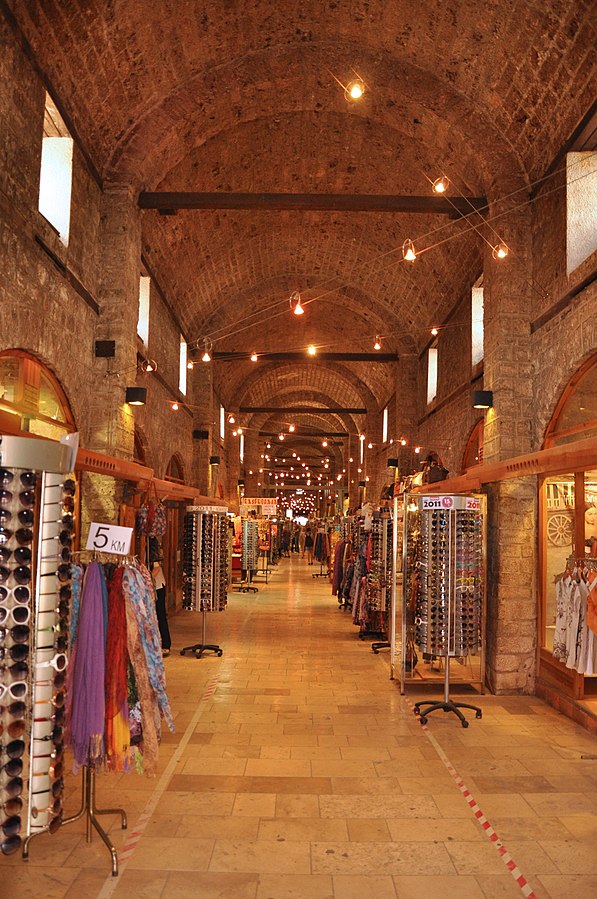 Gazi Husrev-beg's Bezistan was declared a national monument of Bosnia and Herzegovina in 2006. Today in this Bezistan you can buy purses, perfumes, fashion accessories, and similar things.
Brusa Bezistan
Another bezistan that still stands in Sarajevo is Brusa Bezistan. It is one of the historical buildings in Sarajevo's Baščaršija from the Ottoman Empire era. Brusa Bezistan was constructed as a cube made of stones and covered by a roof consisting of 6 large and 2 small domes.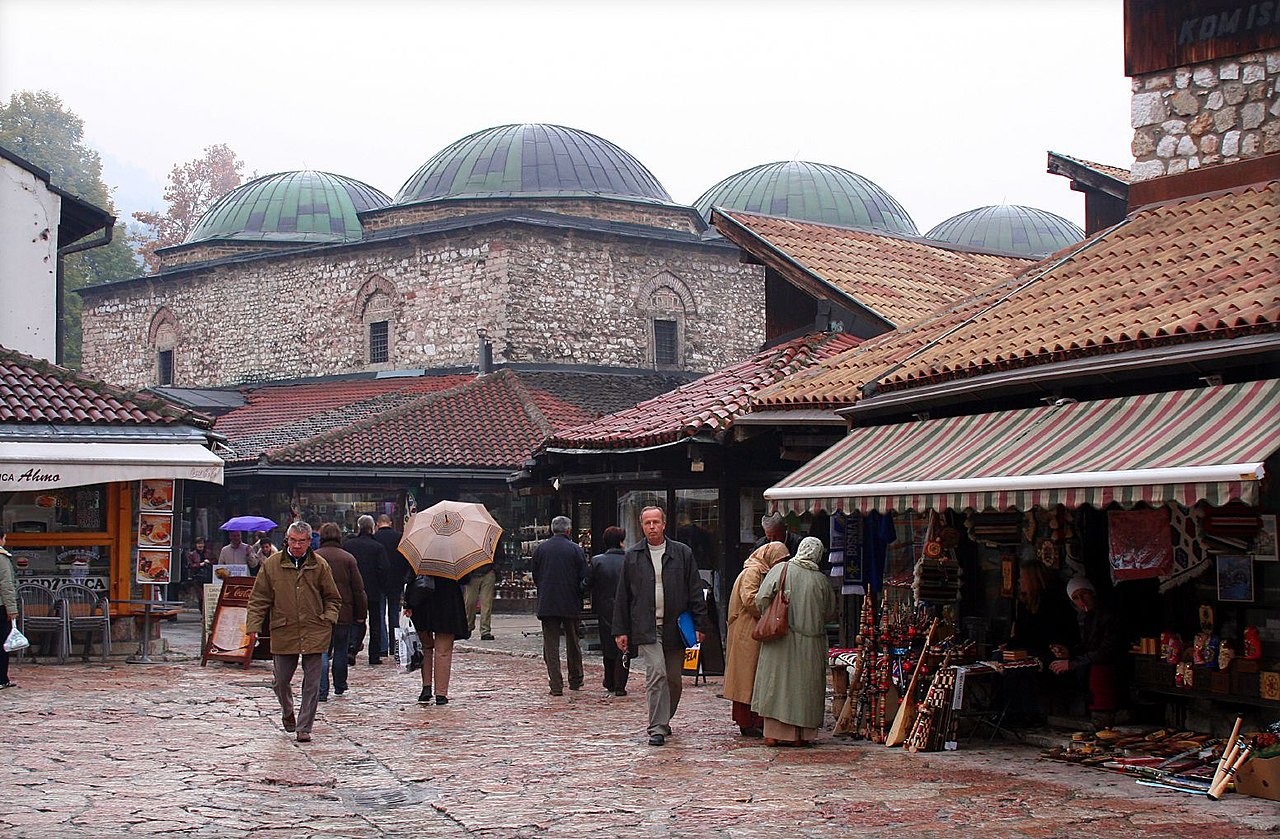 Brusa Bezistan has four entrances on all four sides, and it connects the craft streets with the bazaar. It was built by the order of Rustem Pasha in 1551. He was the Grand Vizier of the Ottoman Empire and son-in-law of Sultan Suleiman the Magnificent.
Bezistan got its name from the Turkish city of Bursa, from which silk was brought and sold in Bezistan (Brusa is a distorted name of the city of Bursa). Rustem Pasha himself produced silk in Bursa.
Unlike Gazi Husrev Bey's Bezistan, which originally sold groceries, in Brusa's bezistan, besides silk, household items and smaller furniture were sold. Today it is one of the museums in the city.
During the war in Bosnia and Herzegovina between 1992 and 1995 Brusa bezistan was damaged, and after extensive repair work, it was renovated and the permanent exhibition of the Museum of Sarajevo is located there. This museum exhibits archaeological material from prehistory, antiquity, and the Middle Ages.
Exhibits from the Ottoman era and from the time of the Austro-Hungarian rule in Bosnia and Herzegovina are exhibited at the Bezistan Gallery.
You can visit museum in Brusa Bezistan every day. Ticket price is 3 KM / 1.5 euros.
If you come to Sarajevo don't forget to visit these magnificent bezistans – parts of the Ottoman Empire in Bosnia and Herzegovina.
Amina Šehović, History MA