In the Balkans the idea of having fun and socializing necessarily involves food, drinks and music. Whether serene gatherings in the garden (known as akshamluk in Bosnia) or noisy and lively festivities accompanied by fast rhythms over both happy and sad lyrics the Balkans is rich with different traditions. Out of this manner of consorting the kafana culture was born. What started out as coffee shops was quickly updated into alcoholic bars sometimes offering snacks (meze) and traditional meals as well. In these mountainous regions kafana is not just a place but also a philosophy of life that teaches you everything you need to know about the world. From holding your own in an argument (or even a fight) to flirting, coping with everyday pressures or just escaping them in a sea of alcohol and music.
There was a widespread idea in the former Yugoslavia that each republic had some specific art or talent they're good at. Keeping up with this idea Bosnia is a place where world class singers are never far away and they often take form of simple craftsmen, bricklayers, bakers, truck drivers, hairdressers, housewives and all the other shapes and sizes. Not only this, Bosnia is also a place where a foreigner shouldn't even try to sing in order to avoid being laughed at by the locals with their superior singing capabilities. It is only natural then that Bosnia would have kafanas which would attract people from all corners of Yugoslavia eager to hear some quality music and have good time. And it did.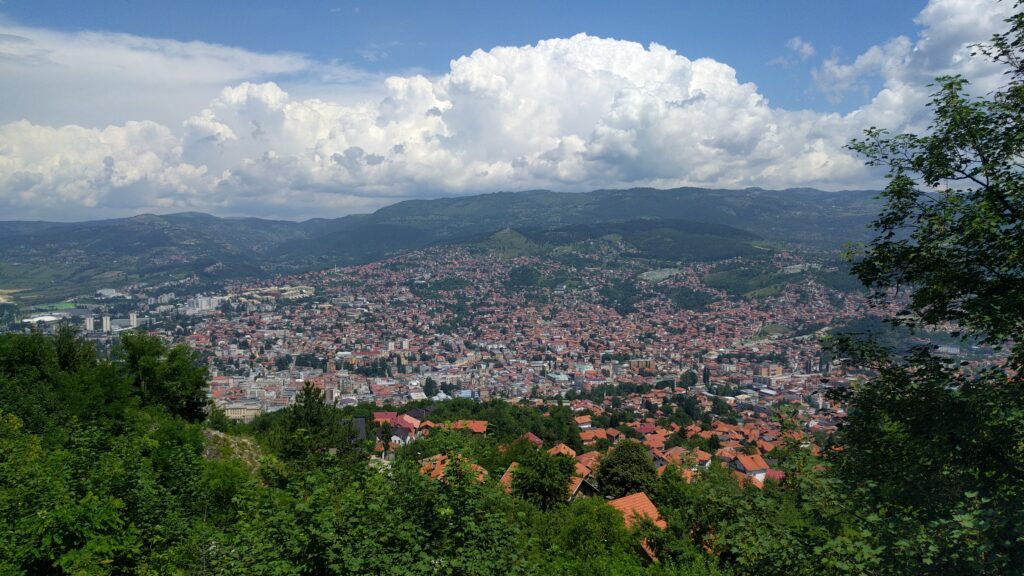 Sarajevo in particular had the appeal of a welcoming city, something that hasn't changed even today. The period of the early 80s was particularly exuberant as the Bosnian capital was chosen to host the Winter Olympic Games, which was the first time ever for a socialist country to do so. A new wave of optimism was sweeping the country and national divisions and tensions that would erupt in the 90s were still far ahead and unbeknownst to most people. Out of many legendary kafanas, bars and restaurants in Sarajevo one place was particularly appealing to musicians, intellectuals, athletes and all the rest, the famous hotel Osmica (sometimes written in plural as osmice).
The hotel Osmica was built right above the city, on the left side of the road leading towards Trebević mountain. Built in an unpretentious modernist style it offered plenty of room but also boasted a fabulous view. Opened in 1984, four stories high, isolated but still only 10 minute drive away from the old-town it offered more than a place to sleep over. Much more important than the accommodation was the hotel's restaurant which, in line with the socialist worldview of equality and classless society, wasn't open exclusively for the guests but for everyone, and this was its main appeal.
The prestige of Osmica could have been due to the establishment itself, the architecture and decor or the breathtaking view over a buzzing city (standing at aprox. 800 m above the sea level) or it could have been because of the managerial capabilities of the owner, one Salko Kič who was well known in the world of hospitality in Sarajevo and beyond. Salko Fejzibegovic Kič, the brother in-law of a Sarajevo football legend Vahidin Musemic who would stop by frequently, was experienced in the world of kafana. Prior to managing hotel Osmice he also managed well acclaimed Romanija, on the banks of Miljacka river and other similar establishments.
Out of many iconic guests of Osmica restaurant which included athletes, singers and musicians one person in particular was the dearest guest and a close friend of the owner Salko Kič. Toma Zdravković was an unprecedented singer, poet, composer, actor and overall larger than life figure whose artistic talent was well-known as was his bohemian lifestyle. Stories abound about his exploits around the Balkans, from gambling sky-high amounts of money in one night to giving all his earnings to the poor and then barely being able to afford basic necessities in the following days. He was guided by his emotions which brought him many difficulties in personal life but which inspired him to write some of the most beautiful chansons. His songs were directly influenced by his own exploits and many of them he wrote for the women he loved, "Za Ljiljanu" (for Ljiljana), "Danka", and many others became hits and are still being played in kafanas all over the Balkans. Women were simply allured by his charm and poetry and men wanted to be in his company.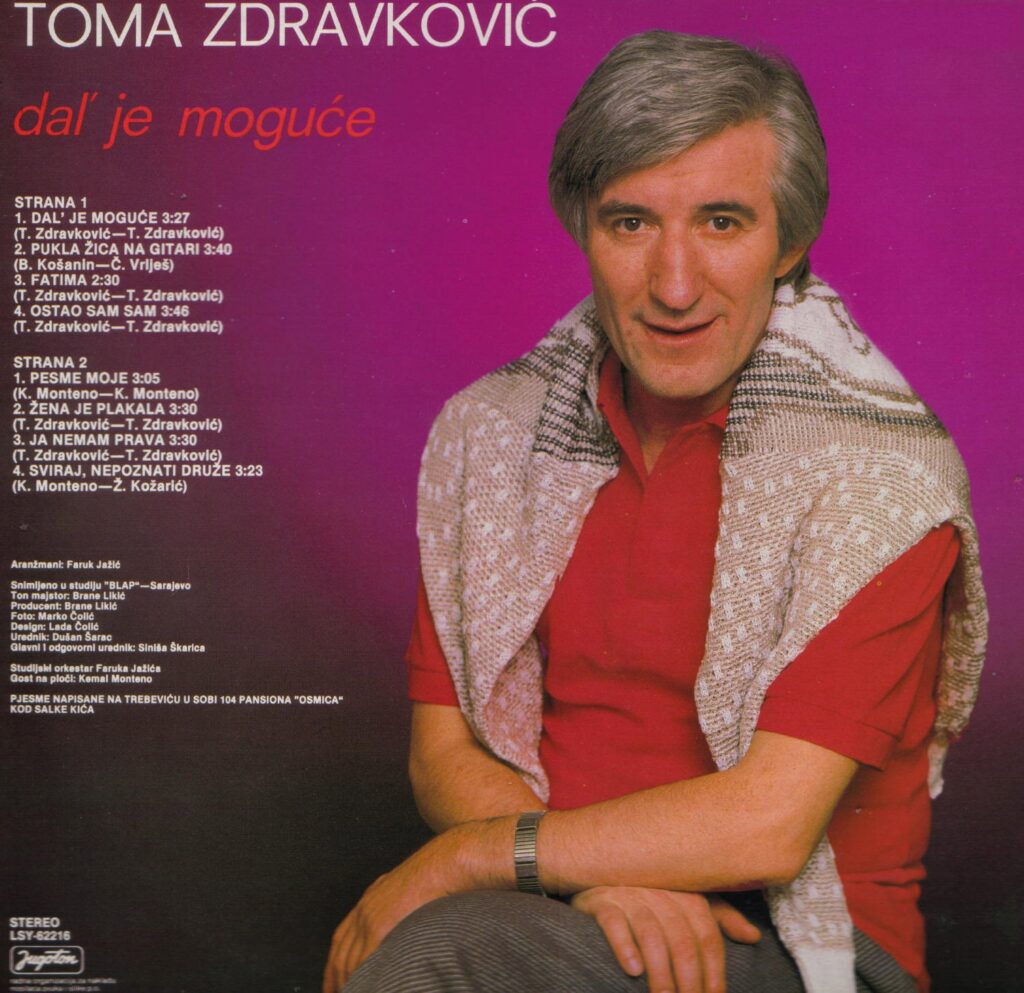 He would often spend weeks in the Osmica hotel living life to the fullest and singing for close friends and strangers alike. Some of his famous songs he wrote in the very same building, something that he even mentioned on the album cover of his 1987 hit record "Dal je moguce". The song "Pesma starom jaranu" (a song to an old friend) was directly dedicated to Osmica hotel and its owner Salko Kič.
When you go up towards Trebevic / on the left side there is a wonderful place / Stop by and give my regards (selam) / To Salko Kič, an old friend / And tell him what sorrow has befallen me..
In Toma's group of close friends was another legendary singer famous for his unprecedented vocal as well as his songwriting skills, Kemal Monteno. Born to Italian father and raised in the Koševo neighborhood of Sarajevo, Monteno worked closely with Toma and together they frequented many famous bars and kafanas in Sarajevo. In the late 80s Toma's reckless lifestyle was getting to him and his health condition was severely deteriorating. Feeling his end approaching he asked his friend Kemal Monteno to write a song for him. Monteno wrote "Pesme moje" (Songs of Mine) in which he used the names of the most famous songs of Toma's career and incorporated them into the lyrics which summed up his entire life. After a long illness and a short but vigorous and productive life Toma Zdravković died on 30. September 1991 when the war in Yugoslavia was just beginning.
The breakup of Yugoslavia brought about a decade of horror as Sarajevo suffered through some of the worst atrocities in modern history. The city was bombed continuously and besieged for 1425 days. The surrounding mountains, of which Trebević was one, served as artillery and sniper positions. Many facilities atop the mountains were used by the Bosnian Serb army (VRS) and transformed into military bases. The hotel Osmice was one of them.
Located right above the poorly protected city it was a perfect vantage point for weapons once produced for the Yugoslav army and now used against the very same people who were previously taxed to pay for it.
Severe fightings were taking place in the area since this is where the main front lines used to be. Several times during the war the Bosnian army (ARBiH) tried to gain this territory and even managed to control it for a brief time but were always pushed back eventually by superior war machine of VRS. In November 1995 the war was finally over when the Dayton peace agreement was signed. It all ended with a compromise that left every side only partially satisfied. The three main belligerents agreed that Croatian and Bosnian controlled parts of the country would be joined into the Federation of Bosnia and Herzegovina and the Serb controlled part would be the second Bosnian entity titled Republika Srpska.
Today's territories of these two semi-autonomous entities are largely corresponding to the front-lines as established at the end of the war. Right in front of the hotel is the entity line which according to many people in Sarajevo was never precisely determined. This leads to a peculiar situation where neither of the two garbage disposal companies (two companies supervised by two different cities, Sarajevo and East Sarajevo respectively) wants to claim the territory of the former hotel Osmice, so the place is not only abandoned but also continuously littered.
Beside human tragedies, deaths and destruction the war left Bosnia with thousands of mines scattered all around the countryside, mostly in places where the trenches and front-lies used to be. Since mountain Trebević was the place of continuous fighting it was mined extensively making it impossible for Sarajevans and anyone else to enjoy the once famous mountain resorts and vantage points. Such was the situation right after the Dayton peace agreement but two decades have passed since then and de-mining professionals, both local and foreign experts, have cleared most of the territory in the mountain. This inevitably brought the people back to Trebević.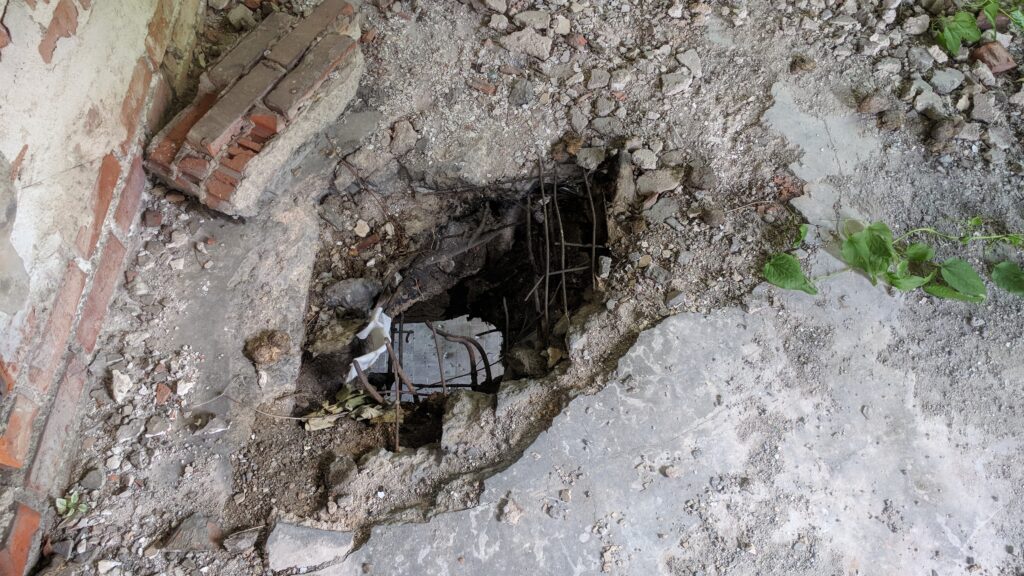 Recently the Emirates company form the UAE has bought the land on nearby location on Zlatiste and built "Sunny Land", a restaurant and a mountain coaster. Local newspapers have reported in 2017 that the same company bought the old hotel Osmice as well and is planning to expand their project there. So far the old hotel is still standing and is accessible to the public. There isn't any "no entry" sign or any other informative signage, no fence or tape around the perimeter. This leaves us to conclude that urban exploration of this derelict building is soon to be impossible since the place is bound to be completely destroyed in the near future.
Taking a moment to consider the new reality one inevitably concludes the obvious. Long gone are the days of Yugoslavia when a poor boy from Serbia could make a career in Bosnia and greet his Sarajevo friend with a "selam" on a hit record in the midst of a country built by the workers for the workers. Bosnia today is very much like this hotel, it has the same contours as before, the same shell but something inside has burned down. Left abandoned it awaits salvation in the form of shady foreign capital.